Join Us Weekly For Fresh Air, Movement & Community!
Every Thursday from 11:30am – 12:30pm, Carmel Plaza, in partnership with Seaside Yoga Sanctuary and Pure Barre, is bringing a FREE Wellness Series to Devendorf Park. 
The Carmel Plaza Wellness Series is kicking off with a one hour yoga session with Seaside Yoga Sanctuary on Thursday, March 3, 2o22. The following week, March 10th, Pure Barre will be teaching a one hour class in the park. Each week, the two wellness studios will alternate offering FREE classes to the community. Davendorf Park is located directly across from Carmel Plaza on Ocean Ave. We ask that everyone brings their own mat to each class. If you do not have an exercise mat there will be a limited supply available for use.
Before or after your sweat sesh enjoy the Carmel Farmers Market which runs every Thursday from 10:00am – 2:00pm on Sixth Avenue between Junipero and Mission Streets. The Market features local certified organic fresh farm produce, eggs, plants, fresh cut flowers, and specialty items such as olive oil, hummus, pizza and bread.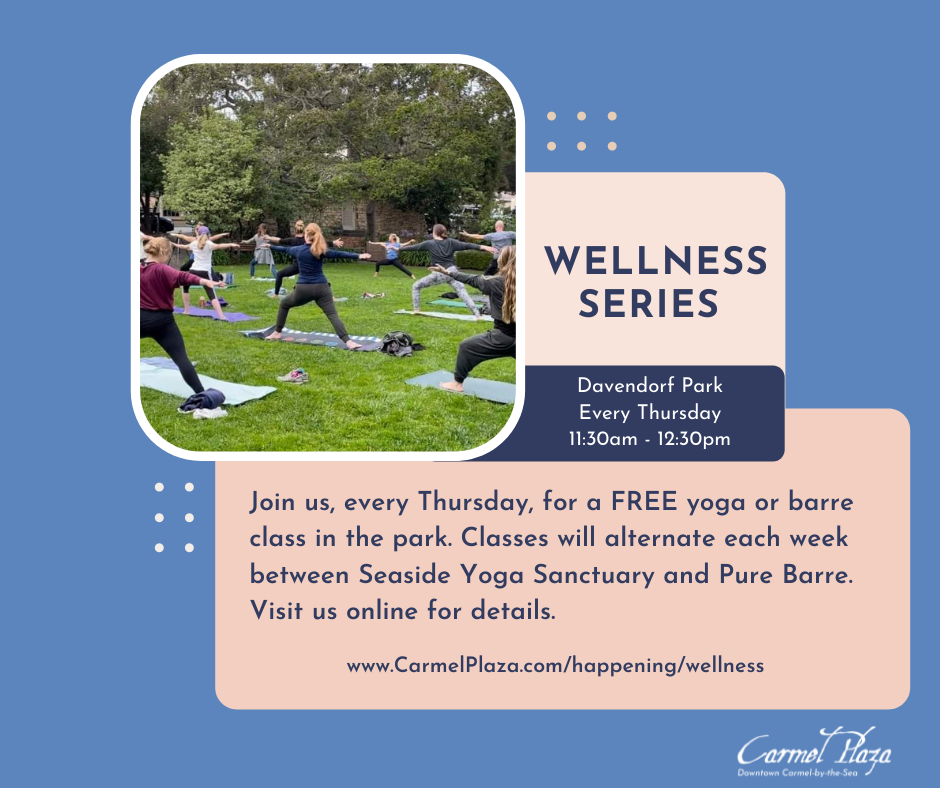 Seaside Yoga Sanctuary (First class is on 3/3/2022):
Enjoy mindful movement and community as we practice self-care to optimize our own wellness. Each class offers meditation, breathing practices, yoga postures, and relaxation. Everyone is welcome, no experience necessary! Don't forget to bring your mat.
Pure Barre (First class is on 3/10/2022):
Pure Barre is a total-body barre workout that transforms you physically and mentally. Their musically driven group classes focus on low-impact, high-intensity movements that strengthen and tone your body in 50 minutes or less. Don't forget to bring your mat.
No need to pre-register for this class.
We look forward to seeing you at the Park on Thursdays!