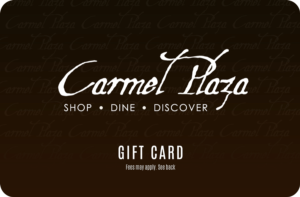 The perfect gift… a Carmel Plaza Gift Card.
Available for purchase at Khaki's of Carmel located in Carmel Plaza on Ocean Avenue.
Gift Cards can be redeemed at any Carmel Plaza store or restaurant.
KHAKI'S OF CARMEL
Hours of operation: Monday – Saturday: 9:30-6:00 p.m., Sunday: 10:30 – 5:30 p.m.
Gift card issued by MetaBank, Member FDIC